Denver author's latest novel is the simple but powerful tale of a Yellowstone park ranger
Peter Heller returns to his lush writing in "The Last Ranger"
Ren Hopper is a Yellowstone National Park enforcement ranger whose view of humans is just a little bit jaded. When a mother and father encourage their daughter to feed an apple to a gangly moose calf, Ren risks his life to save the child from the animal's wrathful mother, then all but wishes the moose would turn on the parents. "What the hell has gotten into you?" Ren asks himself during a similar reverie. "Do you think you're the last ranger that puts the animals first?"
"That was the anger that frightened him. In his world lately, the life of a wolf, or a hawk, might be worth more than the life of a man," writes Heller.
Whatever his opinion of humans, Ren is overwhelmed with his love for the outdoors — the wilderness with its abundance of wildlife, the solitude. The author of "The Last Ranger" is Denver's Peter Heller, so you know the book is filled with lyrical descriptions of Yellowstone. And fishing. Always fishing. Heller's faith in fishing is almost Biblical. "He caught fish in an irregular rhythm, brought them in patiently, netted the larger cutthroat, slipped the barbless hook out easily, and released them. … Sometimes, if the fish was exhausted, he held it gently into the current with a cupped hand and let the gills work, and let it rest until it wriggled free and lost itself in the shadows of the stones. He lost himself, too," Heller writes of Ren's fishing.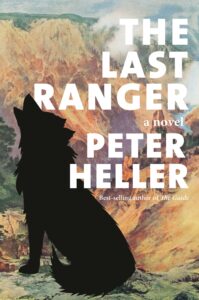 Well, okay, readers can get carried away, too. But this is not a book just about fishing. Ren has reasons for his melancholy. His wife, Lea, suffered from a painful disease that eventually caused her death — not from the illness but from suicide, because she could no longer endure the pain. Ren found her dead on the kitchen floor.
There had been no one else for him since Lea's death, although his best friend is a woman. A few years older than Ren, Hilly meets him at his cabin in the mornings for coffee, as the two watch the shadows cross the mountains and listen for the calls of birds — and wolves. Hilly is an expert on wolves. She knows the wolf packs and their members, and watches them as they romp and hunt and fight over the females. She knows each animal, gives some names, and against her will, she humanizes them. They are her family.
Like Ren, Hilly hates the poachers who hunt and trap in the park and threaten her beloved wolves. One illegal hunter in particular, Less Ingraham, is a mountain of a man with a vicious streak. Ren caught him and his dog chasing a cute little brown bear named Edgar. Ren couldn't arrest him, however, because Les had hidden his gun and claimed the dog, trailing a leash, had gotten away from him.
Things escalate when Hilly's life is threatened. Then her favorite wolf disappears. The wolves matter more to her than humans, and she seeks revenge. Ren must decide how to protect her.
Life as a ranger was not what Ren had expected. "Why did he ever think he could do this job?" Ren asks himself. "The appeal was that he could live in a wild place, be out in it every day, making a living. Well. He should have been an offshore fisherman."
It's a good story that's intertwined like leaves afloat in a river with the current of Heller's descriptive powers.
Heller's last book, "The Guide," was a complicated mystery. "The Last Ranger" is more like the author's Edgar Award-nominated "The River." Filled with Heller's lush writing, "The Last Ranger" is a simple but powerful story.
---
Visit Peter Heller's Speaker Profile: