Christina Baker Kline is the author of seven novels, including, most recently, A Piece of the World (2017), which explores the real-life relationship between the artist Andrew Wyeth and the subject of his best-known painting, "Christina's World."
An instant New York Times Bestseller, A Piece of the World was awarded the 2018 New England Prize for Fiction, the 2018 Maine Literary Award, and a Silver Nautilus Award. Kline's 2013 novel Orphan Train spent more than two years on the NYT bestseller list, including five weeks at #1, and was published in 40 countries. Hundreds of communities, schools and universities have chosen it as a "One Book, One Read" selection. Kline has written five other novels —Orphan Train Girl, The Way Life Should Be, Sweet Water, Bird in Hand, and Desire Lines — and written or edited five works of nonfiction.
In addition to her novels, Kline has commissioned and edited two widely praised collections of original essays on the first year of parenthood and raising young children, Child of Mine and Room to Grow, and edited a book on grieving, Always Too Soon. She is coeditor, with Anne Burt, of a collection of personal essays called About Face: Women Write About What They See When They Look in the Mirror, and is co-author, with her mother, Christina Looper Baker, of a book on feminist mothers and daughters, The Conversation Begins. Her essays, articles, and reviews have appeared in The New York Times, the San Francisco Chronicle, Money, More, and Psychology Today, among other places.
Kline lives in New York City and in Southwest Harbor, Maine.
Talks and Topics
A Piece of the World multi-media presentation

Orphan Train and Orphan Train Girl multi-media presentation

Fast and Furious Fiction & Memoir

Turning Life into Art

Writing About Family History

Turning Life Into Fiction

Why Do We Read? A Conversation

Memoir & Creative Nonfiction Workshop

Write Your Best Book: A Book-Proposal Workshop

Rejuvenate Your Writing Life

Surviving - and Thriving - As a Working Writer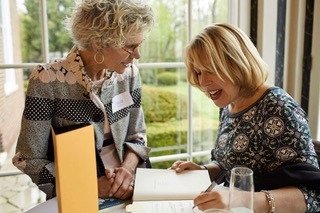 Check Christina's Availability